You are here: Competitions: Games: Terrorbull:
Games Terrorbull
War on Terror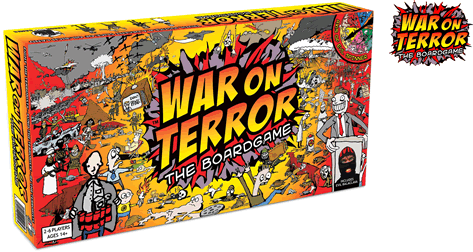 War On Terror the board game has everything you'd expect from today's Global political climate, from party-line propaganda to suicide bombers. There's also a healthy amount of intercontinental war, a sprinkle of revolution, buckets of paranoia and an axis of evil more legitimate than Bush and Blair's.
Not just a war simulation, it's a mirror of life in the 21st century simulation. Admittedly the mirror came from Scaramanga's "Fun House" and you wouldn't shave in it.
Check out the War On Terror site for more information, galleries and twisted community.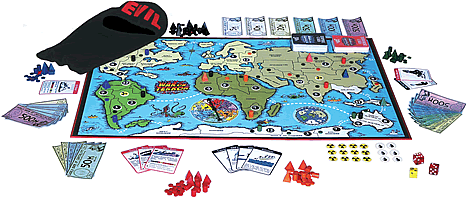 2-6 Players
Age: 14+
RRP: £29.95
Competition start date: Coming soon
Competition closing date: -
IMPORTANT: POST CODE HAS TO BE THE POST CODE FOR THE POSTAL ADDRESS THE PRIZE WILL BE SENT
Due to excessive unfair bulk entries from people and companies using automated programs, cheating as I call it, we have added 'post code' to the sign-up process. This MUST be the post code for the address we will send prizes to. We will manually check for blocks of identical post codes and remove them before entering the list into our random selection software to pick the winner.


Coming Soon, Please check back


A new breed of games for terrorbull times
Cambridgeshire's independent board game publisher Terrorbull, producing satirical board games aimed at grown-ups who haven't (that's grown up, not produced their own satirical board game).
Terrorbull proclaim "playing with your mind", we want to know whose mind, who's playing with it and can they put it back when they've finished please.
Interesting Times? Terrorbull Times!