You are here: Competitions: Games: Harry Potter:
Games Harry Potter
Destination Hogwarts
Harry Potter and friends join the best selling Destination series!
Fast paced family game based in the world of Harry Potter, full of Magic and spells.
As a student of Hogwarts School of Witchcraft and Wizardry you start a new term as a first year student. You travel to famous places from the film series, collecting house points and avoiding hazards as you go.
2-8 Players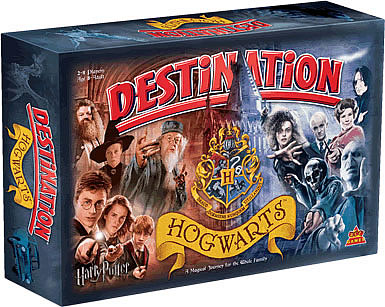 Age: 8+
RRP: £24.99
Competition start date: Coming soon
Competition closing date: -
IMPORTANT: POST CODE HAS TO BE THE POST CODE FOR THE POSTAL ADDRESS THE PRIZE WILL BE SENT
Due to excessive unfair bulk entries from people and companies using automated programs, cheating as I call it, we have added 'post code' to the sign-up process. This MUST be the post code for the address we will send prizes to. We will manually check for blocks of identical post codes and remove them before entering the list into our random selection software to pick the winner.


Coming Soon, Please check back

---
Articles