You are here: Competitions: Leisure: Competitions:
Leisure Competitions
Slider The Unscooter U6a
Three-Wheeled Action Scooter

This is a new and very unique, even strange freestyle ride.

Slider's Un-Scooter has a unique from of propulsion, you…
But unlike a normal scooter the unscooter doesn't rely on you pushing off from the ground, with its patented scissor-style Action Decks you push and pull your legs in and out to move along.

They say there's nothing else like it, and we believe them.

The Unscooter is fitted with safe dual handle brakes and has revolving 6" wheels, which allows for incredible manoeuvrability, for three-wheel steering. The frame itself is made from solid tubular steel.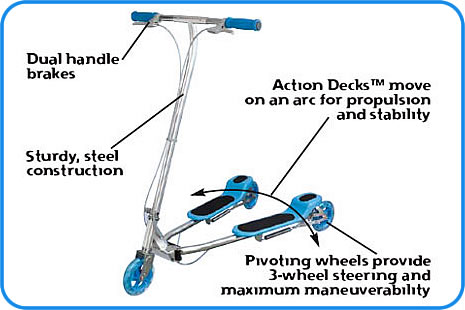 Age: 8+
RRP: £99.99
Competition start date: Coming Soon
Competition closing date: -




Coming Soon, Please check back

---
Articles