You are here: Competitions: Gadgets: Competitions:
Gadgets Competitions
Spy Kite with Digital Camera
Take photos from 25 meters up!
You can take photographs from up in the sky with a Spy Kite delta wing!

This Kite is the first of its kind to include a digital camera for fantastic aerial shots. The camera is activated via the remote control built into the handle.

Then simply download the photos to your PC or laptop through the included USB cable.

The kite has a durable fibreglass frame, covered with tough 52 gram Ripstop Spinnaker and takes less than a minute to assemble.
Included with the kite is the remote control flying handle, fitted digital camera, USB cable, full instructions and installation cd.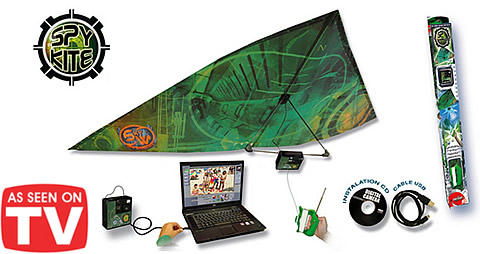 Age: 3+
RRP: £29.99
Competition start date: September 2009
Competition closing date:
IMPORTANT: POST CODE HAS TO BE THE POST CODE FOR THE POSTAL ADDRESS THE PRIZE WILL BE SENT
Due to excessive unfair bulk entries from people and companies using automated programs, cheating as I call it, we have added 'post code' to the sign-up process. This MUST be the post code for the address we will send prizes to. We will manually check for blocks of identical post codes and remove them before entering the list into our random selection software to pick the winner.


Coming Soon, Please check back

---
Articles